Mars pet care introduced Crave dog food in the market in 2017. You will not be surprised by knowing that Mars is running many other famous dog food brands, including Royal Canin, Whiskas, etc. Crave dog food claims to sell the food made with real meat as a first ingredient and grain-free product ranges. Here we will give you a detailed review of Crave dog food.
Crave food prepares premium food products by using premium quality ingredients. But as described above, this company is owned by Mars pet care, and their other food ranges are manufactured with cheap ingredients and mostly with fillers. And has relatively more minor cost than craving foods as Crave is recently launched so they don't offer several variants. But the few they are offering are of premium quality and at a high cost.
In this article, you will get all the authentic food reviews of different pet owners who have experienced Crave food for their canines. The launch of such premium-quality dog food products showcases that pet owners are now more concerned about their pets' nutrition and calorie intake.
Crave Dog Food Review
Crave dog is a young dog food company that is expanding day by day by adding various product ranges to its product line. The company has its manufacturing plant in the United States. They have all the products with real meat as a first ingredient. Their ranges are free of grain, ideal for the breed of those who have sensitive stomachs.
Their different product ranges include both dry dog food and wet dog food.
Verities of Crave dry dog food include,
1. Crave High Protein Chicken Adult Grain-free Dry Dog Food: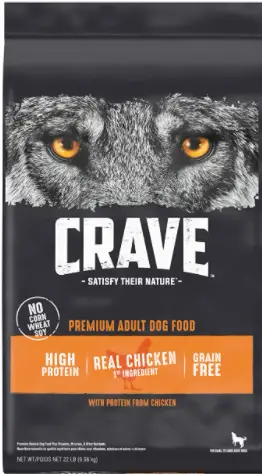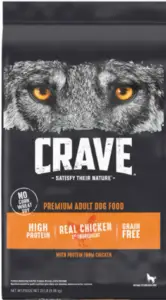 Crave food claims that this product contains animal-rich protein. This product does not contain any meat by-products or grains such as corn, soy, etc. So, Crave high protein Chicken adult grain-free dog food is rich in animal protein and flavor, a real treat for your puppies.
Pros
High in protein
Grain-free
No by-products are added
Cons
Can cause digestive issues to some breeds
2. Crave Lamb & Venison Adult Grain-Free Dry Dog Food:
The protein source of the product is deboned lamb and many chicken meals that make it the first choice of the pet owners for their canines. Their product contains all the essential nutrients considered ideal for your canines, including crude fat and fibers, omega 3 & 6. Their packing comes in different bag sizes, including 4lbs, 12lbs, and 22lbs for all small, medium, and large breed types.
Pros
Use lamb as a first ingredient.
High protein
Grain-free product
Contain a balanced mix of vitamins and minerals
3. Crave Salmon and White Fish Adult Grain-free Dry Dog food:
The first item in this product is white fish, a significant source of protein. Their protein-rich formula with no chicken meal by-products and no fillers are ideal for all kind of breeds. Their salmon and whitefish formula will provide your canine with all the essential nutrients and calories required for a healthy life. All the dogs want a diet rich in animal protein rather than vegetable proteins. So, they love their treat filled with animal proteins. It has been proved excellent for sensitive dog tummies.
Pros
They are using Salmon as a first ingredient.
It proves good for dogs having digestive issues.
High in protein
Cons
It may cause poultry allergic to some dogs.
4.Crave Beef Adult Grain-free Dry dog food:
It is a dry dog food item in 12 lb. bag size. They claim to fulfill the dog's desire for natural animal proteins. Their formula is grain-free, with no soy or wheat added to it. That helps your dog develop a good lean body mass and strengthen muscles. Their perfect procedure will never disappoint you and your dog. Keep in mind every dog has different energy requirements. This is best suited for adult dogs. In their case, also monitor the daily condition of your canines accordingly. This food package is ideal for dogs above 1 year. It is always advised to present your dog with moist food.
Pros
Use chicken as the first ingredient.
High protein food
Grain-Free
Cons
The product may cause digestive issues to some dogs.
The product may not be best for picky eaters.
5. Crave Chicken pate Grain-Free Wet Dog Food:
It is a wet dog food type that comes in the form of pate in the can packing. Pate is portentous as its first ingredient includes chicken with no soy, peas, or wheat added. Its formula provides 100% health benefits to your canine. Their formula is enriched with all the essential nutrients. It is a grain-free diet that is suitable for all types of breeds. It gives a perfect chicken flavor as it may contain chicken broth or liver etc. It is a highly rated product and costs about $18. According to some pet owners' reviews, it doesn't suit the stomach of some canine tummies.
Pros
The product is enriched with vitamins, minerals, and fatty acids.
Chicken as a first ingredient
Cons
It may cause poultry allergies
6. Crave Beef Pate Grain-Free Canned Dog Food:
The product featured real beef as a first ingredient. It contains 99% protein from an animal source. That helps in promoting healthy muscles. It can be served on kibble topping. It has no artificial flavor or grains added to the formula. The product is in a paste form so that it may contain the thickening agent carrageenan. So, according to some experts, it may cause some issues in dogs as it contains carrageenan. But due to its soft texture, it is loved by old dogs. Different pet owners believe it is one of the favorite canned foods of their pooches. It is one of the grain-free foods that value its price.
Pros
They use real beef as a first ingredient.
Grain-free
Their formula contains a good mix of vitamins and minerals
Cons
Might not be good for picky eaters
Contain thickening agent carrageenan.
7. Crave Turkey Pate Canned Dog Food:
Crave Turkey pate canned dog food is one of their wet dog food ranges featuring 90% animal protein. The smooth pate texture makes it ideal for adult dogs. Thus, their turkey recipe added chicken broth and liver makes it more favorable for the canines. Like every food formula, Turkey pate is also free from artificial flavors, colors, or additives. So, many dog owners love the palatability and consistency of the product. In addition, the dogs and dogs love their moist texture with chewing issues. Many dog owners are happy that they can serve their dogs a meal with high-quality protein and non-grain food at a low price.
Pros
Contain turkey as a first ingredient.
Formula enriched with proteins, vitamins, and minerals.
It works well for more picky eaters.
Cons
The product may contain carrageenan that causes allergic in some dogs.
What people like and dislike about Crave dog Food
Different pet owners expressed that their dogs love the taste of the craved dog food. First, they love their product because they don't contain cheap fillers and artificial flavors or colors. The second thing most people like about crave food is its grain-free range that can prevent your dogs from different stomach diseases. The best part of their formula is their first ingredient is real meat, which most dogs love about them. Pet owners think that craving dog formula is a complete and healthy diet for their canines.
Most people complain about their dog food because their kibble bag size is too small for the dog. People notice that the kibble size is smaller than the other kibble size available.
Frequently Asked Questions (FAQs)
Is Crave Food good for Canines?
Yes, it is proved to be an excellent dog food with premium quality ingredients. Many pet owners recommend it as their products as rich in animal protein and grain-free with no artificial flavor or color added. So, their protein-based formula helps your dog be active and strengthen its muscles.
Who makes Crave pet food?
Crave pet food is prepared in the USA by Mars pet care Unit. They claim to prepare the food with all of the premium quality ingredients selected from all around the World. Crave Pet food was launched in 2017. This brand is newly launched in the market and popular due to its premium quality pet food ranges. That is crafted with animal proteins and quality carbohydrates.
Is Crave Dog food worth buying?
If we talk about other dog food ranges of Mars pet care, their Crave dog food ranges are made up of premium quality ingredients. No doubt, their crave dog food ranges have high protein content, and their first ingredient is fresh meat. But their price is relatively high compared to other brands in the market offering the same formula.
You can read a detailed guide about ziwipeak dog food here.
Final Words
After the above discussion, we concluded that Crave Dog Food is a well-recognized brand. They offer dog food, including dry and wet grain-free dog food ranges. Their dog food formulas are made with real meat as a first ingredient. In addition, they have launched the entire product line grain-free and with no artificial flavors or color added.
In a nutshell, Crave is becoming one of the best dog food brands offering different food ranges for almost every type of breed at a reasonable cost. But some pet owners don't like their wet degrees as it may cause some stomach issues in their canines. So, before switching to any other food, make sure to introduce it to your canines frequently.
If you find our article helpful, let us know in the comment section below. It will be highly appreciated.