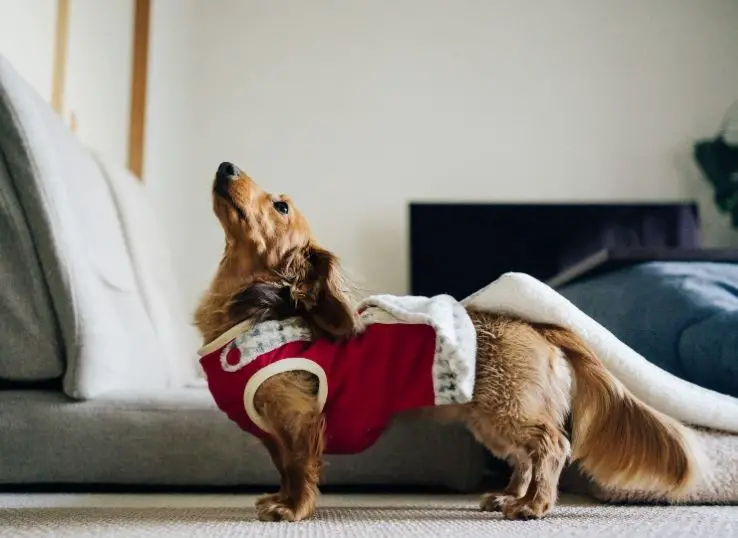 It's cold in your area, and you wanted a sweater for your dog? Don't want to buy one? Then now, let's make a cozy crochet-style sweater for your dog. This sweater will keep your dog warm and keep her in the fashion game. Here we will tell you complete steps about how to crochet your dog sweater.
Some dogs avoid wearing any clothes, including sweaters too. However, wearing a sweater becomes essential and beneficial for your dog's health; otherwise, they'll get flu and other seasonal diseases.
A making-of-crochet style sweater for you is a beginner thing to do. You will find it a bit difficult if you are new to stitching, but it becomes straightforward once you pick the flow. For crocheting a basic sweater, you have to take the measurements of your dog and then have to crochet the thread according to the measurements.
Things you need for crocheting a sweater:
Following are some essential things you will need to have for crocheting a dog sweater.
Crochet hook

A bundle of soft thread

Wide eye needle

Scissors

Stitch markers
How to crochet a dog sweater:
For crocheting a basic dog sweater, follow the following simple steps.
1. Taking measurement; In the first step, you have to take the measures of your dog's body. Take the measurements from three areas: the neck, chest, and the slimmest part of the waist.
It is to note that don't use a measuring tape to do measurements. Instead, take a thread with whom you will crochet the sweater and roll it around the neck, chest, and waist areas.
2. Crocheting the neckpiece, Starting from the neckpiece stitching. Take the thread that you have measured for the neck and crochet it on that neckpiece thread.
Make the first chain of six pieces crochets for the neck and continue making chains on that base of 6 piece crochet. You have to make a total of 29 rows. After making 29 rows, make a single crochet outline on the top and bottom rows. On the shoulder, the side makes 3 rows of single crochets.
When you are done with your neckpiece, your result will have 43 single crochets. If you don't, go back and see where you make a mistake.
3. Crocheting armholes; let's head towards the arms after making the neckpiece. For making holes for the components, count five single crochets from each side and place stitch markers there. And after that, stitch markers count 4 more spaces and add the other two stitch markers
Make 10 rows of single crochet to the end of the first stitch markers from each side. Then, from the other identification leaving the four spaces, make ten rows of single crochet that you previously made.
4. Crocheting the chest; Once you make the armholes, start to crochet the chest piece of the sweater covering the 4 single crochet spaces by creating a bridge over the spaces you have left before. Add a stitch marker on the first row. Now you have to make 26 continuous rows, out of which 13 will be expected, and 13 will be decreased rows leading towards the waist.
5. Completing the armholes; Make the armholes longer by making a single crochets row. The number of rows depends on the length you need for your dog's sweater.
6. Connecting the leg openings; Starts stitching from the neck to the belly connecting the two edges using wide-eye needles. Don't stitch to the ends. Just sew it to the stomach and let the other half remain open.
7. Trying it on; Now a cozy sweater is ready to try it on your dog and check the fittings and things like that.
Frequently asked questions
What is the easiest thing to crochet for a beginner?
Following are some easy things to crochet if you are a beginner
Crochet a necklace

Granny square blanket

Basic Beanie

Friendly shawl

Slouchy beret
How long should a dog sweater be?
There may be various fluctuations in the sizes of the dog's sweaters of different brands. However, a general measure for the dog's sweater is 12 inches in length, neck circumferences are 12 inches, and chest circumference is 16 inches.
It is recommended to measure your dog before buying a sweater for her. If you are crocheting a sweater yourself for your dog, you can make a precisely measured sweater that fits perfectly with her. Otherwise, in a ready-made sweater, you may face slight fluctuations in the sizes.
Is it OK to leave a sweater on a dog?
It is generally unnecessary to leave them with a heavy sweater for the fluffy ones because, naturally, they have an insulating layer of hair over their skin. But if your dog has not that many fluffy hairs or is a little too skinny or facing some freezing temperature in your area, you can wear your dog a warm sweater. This helps her make her warm and cozy and helps her maintain her body temperature.
Want to know about brooms for dog hair? Read this guide.
Conclusion:
Let's end this detailed discussion of crocheting by giving a brief conclusion.
Crocheting a dog sweater is not accessible if you're new to crocheting. However, if you are already a pro at the task, you can easily crochet a basic dog sweater. You have to follow simple steps to make a basic dog sweater. You have to follow the precision policy while crocheting because a single miss of crochet can ruin your whole hard work, and then you have to start from scratch.
If you crochet your dog's sweater on your own, you will have the perfect size for your dog rather than buying ready-made. Crocheting is a simple DIY task; you can do it by following the steps explained above.
Hopefully, this article will be helpful for you if it is, so let us know in the comment section below and be aware of your other queries.