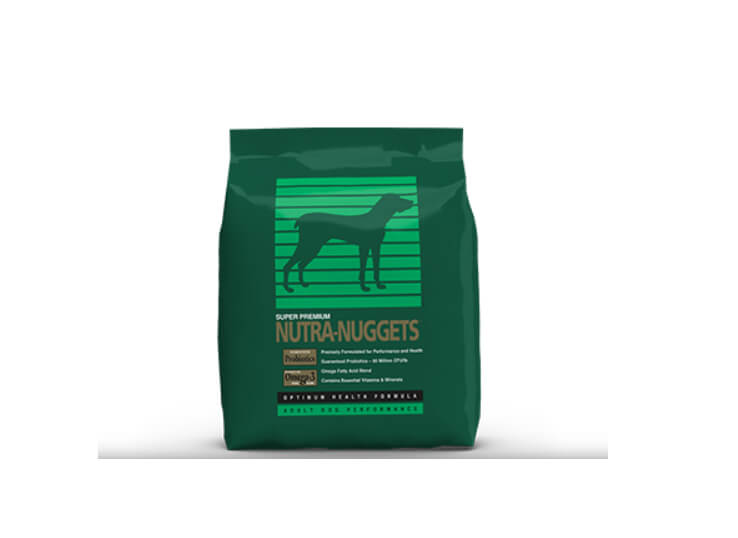 It seems impossible – trying to find quality food that is genuinely good to put in your dog's stomach and remains in your main budget point is often TNT. Relying on dog food labels to give you the correct nutritional information is insufficient. You need to know what goes behind pet nutrition to find the best quality food. So here, we will provide you with a detailed guide about the Nutra nuggets dog food review.
Nutra nuggets dog food review 2021
Nutra-Nuggets splits its products into two buckets, one range for the United States and one for international consumers. It's not clear why this is, but the recipes within each field are similar but not identical.

Diamond pet foods manufacture Nutra nuggets dog food. The production facilities are in California, Missouri, South Carolina, and Arkansas.

Nutra Nuggets is a grain-dependent dry dog food using a moderate amount of meat meals

.

 It contains the primary source of animal protein.

In addition to that, Pet food provides the best nutrition for your dog's overall health, according to the official website.

Nutra nuggets have a moderate product range inside the US and internationally. They only provide dry dog food and cat food in a small range.
The nutrition offered by Nutra nuggets is variable. Some of its products have below-average food, and some have above-average yields. The product with above-average nutrition would include a high proportion of fat and protein. So before buying this, you have to think about whether high-fat content is suitable for your dog or not.
Different dry food flavours of Nutra Nuggets
Nutra nuggets product line has five dry dog foods.
Nutra Nuggets Puppy

Performance Formula

Nutra Nuggets Lamb Meal and Rice is designed for animals who prefer lamb over chicken.

Professional Formula

Nutra Nuggets Grain-Free Beef Meal and Pea
Nutra nuggets performance formula for dogs
Chicken meal, ground maize, brewers dried rice, chicken fat, maize gluten meal, dried plain beet pulp, egg derivatives, fish meal, linseed, chicken digest, salt, potassium chloride, glucosamine hydrochloride (0.03%), and chondroitin sulfate (0.01%).
3,886 kcal/kg (364 kcal/cup)
CALORIE CONTENT
According to the website, Nutra-Nuggets Performance Formula for Dogs is the best to meet the nutritional requirements. The Association of American Feed Control Officials (AAFCO) makes this formula:
The first ingredient is chicken meal. At the same time, the chicken meal is the protein-packed dry and rendered clean flesh, skin, and accompanying bone. Chicken by-products contain the nutrient-rich parts (which includes 300% more proteins ) of a chicken that remain after the meat is removed, such as the lungs, spleen, liver, and kidneys.
The second ingredient is ground maize; Betacarotene, vitamin E, and lutein are antioxidants in maize that help protect key cell components from damage. In addition, maize is a rich source of fatty acids, especially linoleic and linolenic, for healthy skin and coats.
The third ingredient is the brewers' dried rice. Brewers' rice is the second form of rice in dry foods, found in 19 percent of dry dog food. Nutritionally speaking, brewers' rice is a great energy source and provides protein and minerals.
The next ingredient is chicken fat, which is not much good for a dog's health. But if kept without tocopherols provides valuable fatty acids and energy.
The next ingredient is the maize gluten meal; After removing the starch, germ, and bran from kernels of maize, the remaining gluten is ground into a meal containing high amounts of protein.
Beet pulp is the next ingredient, and beet pulp is an excellent source of fibre that adds bulk to the dog's stool. Beet pulp is also a good source of energy that promotes colon health. Thus, it adds dimension to the dog's stool, improves colon health, and is a great energy source.
Egg derivatives, an unspecified (wet or dry) form of shell-free eggs. Quality can vary significantly. Lower-grade egg products can even come from commercial hatcheries — from eggs that have failed to hatch.
In any case, eggs are easy to digest and have an exceptionally high nutritional value.
Fish meal, an ingredient in Nutra nuggets products. Fish meal from marine sources is a valuable ingredient for pet food. It delivers high-quality amino acids in the protein matrix, has nutritionally available minerals, and the residual fat carries omega-3 fatty acids.
Linseed is the ninth ingredient. The seeds contain high levels of sound quality dietary fibre, lignans (natural antioxidants), and an abundance of other micronutrients. Linseed's main benefit, though is its high proportion of health-boosting omega-3 fatty acids.
The tenth ingredient is Chicken digest; Animal digest is a common ingredient in pet foods. A digest is an additive treated with heat, enzymes, or acids to produce a concentrated product called natural flavoring. Pet food may legally be labeled as "Chicken Flavored."
From here, the list goes on and has some other valuable ingredients.
But to be realistic, ingredients located in this (other than nutritional supplements) are not likely to affect the overall rating of Nutra nuggets. However, they will have a moderate effect on the dog's health.
Based on ingredients alone, Nutra Nuggets dog food looks like an excellent dry food product.
According to the above-mentioned nutritional contents, protein is 28%, and fat is 18%. According to the nutrition calculator, the total carbohydrate percentage suggests that it contains proteins near average, fats above average, and carbohydrate percentages below average.
But it does contain a moderate amount of meat.
Bottom line? Nutra nuggets a dry dog food with a moderate amount of ingredients. However, it contains many valuable elements to help your dog become healthy and active.
You can check great deals here:
Conclusion
Recommended!
But we encourage those people who make sure whether it is a good choice for their pet according to its health or not. So this is all about the Nutra nuggets dog food review. I hope you like the guide. Feel free to drop a comment.  If you want to read about other dog food guides, here is comprehensive information about the Ziwipeak dog food review.