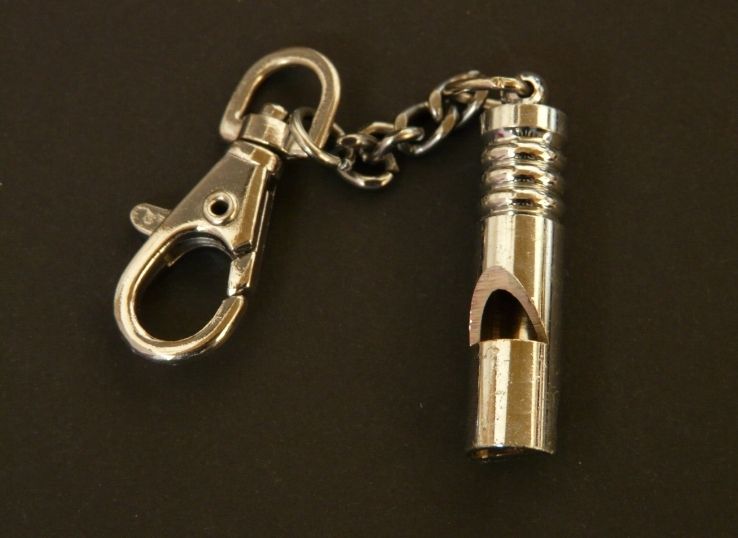 Sir Francis Galton invented the dog whistle in 1876. A dog whistle is a gadget used for the training of dogs for many years. It is a great tool used to monitor your dog at a distance. If you are in a noisy situation and you want to get your dog's attention just blow a whistle, as all dogs can hear loud sounds so your canine will promptly move towards you. We will tell you a complete guide about how to use a dog whistle in this article.
But all of it needs persisting training and your dog's response.  The best part of a dog whistle is, it is a small device for training that is portable and you can take it everywhere with your dogs. So, you can do training and take it anywhere you want.
You have a dog whistle but you don't know how to operate it. Then you are at the right place just keep reading this article here we have briefly explained to you how to blow a whistle and command your dog's response.
How to use a dog whistle:
Everyone wants to command his furry buddy to enjoy walking in parks and hiking in mountains. It is no more a difficult task for you after you will learn to operate a dog whistle. So let's straight dive into it,
Buy a whistle for your canine. You can purchase it online or somewhere from the pet accessories shops. It is recommended to purchase professional dog whistles in which you can adjust frequencies. So, you can command your dog on a specific frequency and can have a replacement whenever you lose your whistle. There are many types of whistles available in the market choose according to your need. No doubt, every type of whistle will work. It is also advised to tie with a string and hang on your neck while taking your dog out for walks etc.
The very next step you need to do is set your whistle hints. Just uniquely blow the whistle for every command. For example, if you want your dog to sit blow differently, and if you want that your dog should approach you blow differently. For example, if you want your dog to sit whistle in one blast and want your dog to come to you whistle multiple blasts.
Place the whistle in the mouth then close the edge of the whistle and make sure not to block either of the holes of the dog whistle. Your tongue will blow the whistle when you will breathe from the chest. The air will circulate and blow the whistle. The position of the tongue will vary and make your whistle blow uniquely.
When you learn to blow differently, now it's time to command your dog. Teach your dog to learn the command of what you are trying to speak verbally through the whistle. Give him different whistle signals and observe his responses. When you observe that he is responding to your commands nicely then stop communicating verbally.
Note: You all know consistency is a key to success. The day you skip training all of your hard work will turn out ineffective. So, practice daily unless your furry buddy is amazingly responding to your commands. If you are not going to walk practice it at home but never skip.
Whenever your dog responds to your commands in the training always reward him with a treat it will turn out into amazing results.
 Dog Training whistles Types:
Types of dog training whistles are readily used,
Silent Whistle:
One is the so-called silent dog whistle that only a dog can listen to. As we all know dogs can listen to high frequency than a human ear. Its range starts at around 37,000 Hz. But the bad thing about the silent whistle is you cannot listen to the whistle sound. So, it is not advised to buy a silent whistle if you are not a professional trainer.
The other types of dog-whistle are that both a dog and its owner can listen to. These include,
Ultrasonic Dog Whistle: It is a dog whistle with ultrasonic frequency. Its high frequency neither cause harm to human nor to the dogs. It is specially used for hunting dogs.
Gun Dog Whistle: Gun dog whistles are specially designed for dogs with hearing problems. Spaniels are usually trained by such types of whistles.
Hence there are many types of dog whistles available in the market choose according to your commands and keep in mind the frequency before deciding the one.
Frequently Asked Questions:
What are the uses of dog whistles?
Dog whistles are used for the basic training of dogs. With dog whistles, you can modify its basic behavior such as aggression and barking, etc. you can also use dog whistles if it is difficult for you to train your dog with verbal correspondences. Switch to dog whistles it will help you in training.
Which dog whistle is best?
All dog whistles are good to use ultrasonic or others that you can easily use. But it is recommended to not use a silent whistle if you are not a professional trainer. Because you cannot listen to the silent whistle and you will never know that you have blown right or it has reached your dog without interceptions.
Final Verdict:
We all listen "Dogs also speak but to those who understand". You can train your dogs without any expert all you have to do, is develop communication skills with your dog. Once you have maintained a good bond with your dog you will love it.
You can train your dogs in either way by teaching them some commands. All you have to do is transfer these commands to the dogs. You are upset, that your dog is not responding to your verbal commands then use a dog whistle this will help you. You will be astonished by the way they will respond to your commands amazingly.
So, if you learn from this article let us know in the comment section below. It will be highly acknowledged.