Dog food is essential for dog health, and if you want to know about Ziwipeak dog food reviews, then dog hawk is the place to visit. Ziwipeak is a Newzealand based company that produces air-dried raw food. Newzealand is the best place to source the best and most nutritious pet food. They also make canned or moist food for dogs and cats. According to the company, they use no preservatives or fillers and artificial flavors. In addition, the company uses a twin-stage drying mechanism to eliminate pathogens. So all the nutritional components of the food remain intact. Based on our research of veterinarians, we will give you detailed reviews of the Ziwipeak.
In 2004 Kimberly and Peter Mitchell started a new pet brand called ZiwiPeak with unadulterated food. The Pet industry was filled with adultered and low-quality food. Their primary purpose was to provide high-quality food free of artificial flavors. Their brand expands and expands, and they now have a branch in the USA. The main focus includes 96 percent fresh raw meat organs, seafood ingredients, and natural bone. The food is also packed with essential raw minerals and vitamins. We will discuss in detail these ingredients and how they can be beneficial for your dog. We are also going to provide you with a detailed buying guide.
Ziwipeak Dog Food Reviews 2022( Recall)
Ingredients in Ziwipeak
It contains venison which is the fresh edible part of the game animal. The venison contains all the essential amino acids required by the dog. So this provides you with all the amino acids in one package.

The other ingredient is venison tripe. It is a grain-free product and consists of nearly 100 percent meat. Venison stripe is a nutrient-rich product and contains essential fatty acids and digestive juices. These juices are necessary for your pet's health.

Venison heart, liver, lungs, and kidney are also present in the food. They contain vitamin B complex, which is essential for hemoglobin activity. They also play a role in the brain development of the dog. In addition to that, they are low in fat. Green-lipped mussel and venison bone are also present in the food. Your dog will have an abundance of essential minerals and nutrients.

Highly notable inulin is present, a rich source of dietary carbohydrates. Dietary carbohydrates enhance digestibility. It can also be used as a prebiotic that promotes the growth of highly digestible bacteria. In addition to that, selenium yeast, a natural ani cancer supplement, is also present.

It also contains green tripe for digestibility and enhancement of palatability. A sufficient amount of parsley is also present for fresh breath.

The food also contains fish oil, a rich source of omega 3 fatty acids. Kelp is also found in this dog food, a rich source of chelated and iodine minerals. These minerals are essential for the proper development of dog food.
Benefits of Ziwipeak
The food has lots of benefits. Here are some of these
All ingredients are from free-range grass-fed farms. The meat is from humane and ethically maintained farms, and it is one of the top dogs.

They have used the air-dried method for centuries, an excellent strategy. The procedure eliminates all the pathogens and preserves the food-rich nutrients. It allows maximum digestibility without artificial flavors. Thus this superb method is helpful to lock out all the nutrition and eliminate all the pathogens.

ZiwiPeak is 100 percent pure food with no animal meal, meal by-products, cheap fillers, and artificial flavors. The primary purpose of this brand is the goodness of your pet's health.

As we have mentioned, it contains green-lipped mussel. The green-lipped mussel contains glucosamine and chondroitin. These ingredients are essential for joint health. Thus they help in avoiding many common problems. So dogs having a history of Musculoskeletal problems will try this food.

2oz scoop of Ziwi peak contains 263 calories which are 25 percent premium to the average premium kibble. So dog food contains calories and protein that allows your pet to remain full for a long time and have more energy.

According to our study, dog food has a fat to protein ratio of 74 percent. It contains 52 proteins and 27 percent fat. An estimated 13 percent of carbohydrates are also present.

To sum up, it has an abundance of meat with above-average protein and above-average fat. The carbohydrates are present in low amounts, but the dietary carbohydrates level is sufficient for enhancing digestibility.

It is made of 98 percent fresh meat and contains levels of taurine. The nutrient is essential for the health of the heart of the dog.

It does not include any antibiotics, GMOs, or hormones. It is free from unnecessary carbohydrates and by-products meal.

Dog food has more calories, so you should use it less than kibble. In addition to that, it has 1.6 percent fiber which is not a bad thing. The primary reason that dog has less ability to digest plants that contain a high amount of fiber. Thus it helps in increasing digestibility. According to many customers, this dog food is highly recommended for people having stomach problems. It helps in increasing digestibility in case of stomach problems.

According to some customers, it is perfect for sensitive skin and has a potent effect in clearing the patches.
This food has excellent health benefits. We highly recommend this food. But the only defect we find is the price. It is too pricey for some individuals. But if you want high-quality dog food, it is the way to go.
Things to consider while buying and feeding dog food
It would help if you considered the following things while buying and feeding dog food.
Calcium to phosphorous ratio
The average calcium to phosphorous ratio is 1:2. This ratio can depend on the life stage of the individual. Appropriate calcium to phosphorous ratio is necessary for the health of your dog. A lower amount of calcium and phosphorous will result in a deficiency. A dog needs more calcium when it is in the early stage of its life. An older dog needs less calcium. Too much calcium for the puppy can result in osteochondrosis and hip dysplasia. Ziwipeak dog food has appropriate calcium to phosphorous ratio. So you can buy with confidence and trust.
Proper Manual Reading
You need to read the proper ingredient guide which each food manufacturer provides. The guide contains all the nutrients which are essential for health. It also tells how much amount you can feed your dog. These things should be kept in mind while feeding dogs food.
A proper Amount
A proper amount is necessary for the health of your dog. Some dog food has high carbohydrate content, and some have low. A sufficient protein amount is also essential for the proper functioning of metabolism. In the case of the Ziwipeak, it contains more calories. So it should not be fed like regular kibble.
Grain-Free
Sometimes your dog has problems with grains. For example, grain can cause diarrhea to your dog with a sensitive stomach. So it would be best if you considered that your dog is not grain sensitive. You can do this by consulting with your veterinarian.
Budget
Ziwipeak is a quality dog food. Food is available on both high and low budgets. It has great customer reviews due to its quality, and dogs love to eat it. For some people, it is too pricey but never compromises quality. It is a quality dog food tested by customers and our team. So buy it with confidence. It is available in both wet and air-dried forms. High nutrient and protein content makes it a buyer choice. Grain-free and low carb is also its quality features mentioned above.
Air Dried Ziwipeak dog food here
Ziwipeak Air-Dried dog food is one of the most quality food. The air-dried dog food eliminates the need to add any kind of preservative agent. They provide high nutritional value and are great for your pets. It has excellent features: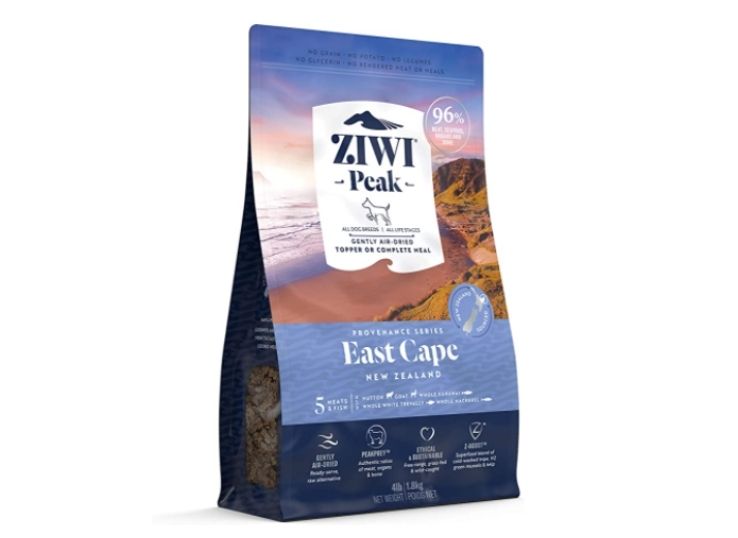 Check some exciting deals from Chewy
Frequently asked questions
Is Ziwipeak a good dog brand?
According to our research and guide, Ziwipeak is an excellent dog brand; It contains all the essential nutrients required for the dog's health.
What is the shelf life of Ziwipeak dog food?
Ziwipeak dog food lasts about 8 weeks. It is usually tightly packed in a sealed package in a cool environment away from the sunlight.
Can we add water to Ziwipeak?
You can add water to your Ziwi peak dog food, but the food should be disposed of within 4 hours. Again, it is to avoid the risk of microbial growth.
Is air-dried dog food suitable for pet health?
Yes, Air-dried dog food is suitable for the health of the pet. All the moisture evaporates out without the usage of heat. It is just like the process of dehydration. In this case, all the amino acids and essential nutrients remain intact. It is one of the oldest and safest methods for dog food preservation. All the nutrients are locked in, and pathogens are removed to avoid any disease.
Can Ziwipeak products be cooked or baked?
No, Ziwipeak products cannot be cooked or baked. This is because cooking dog food will cause the loss of essential nutrients.
How can Ziwipeak remain in my pet dish?
Ziwipeak dog food can remain in your pet dish for 8 hours. After this period, the food becomes stale. Many bacteria grow in the food, which is not suitable for your pet's health.
What is the difference between air-dried and canned food?
Air-dried and canned food both are good for nutritional health. The main difference is the amount of moisture. Air-dried food contains only about 14 percent moisture, while canned food contains 78 water. But both are good for nutritional health. Both are complete and dietary diets for your dog.
What if our dog experiences loose stools after feeding a new dog diet?
It is usual for a dog to experience loose stools after feeding a new diet. The dog flora and fauna will adjust to the new diet. So you do not need to worry.
A comprehensive guide about life abundance dog food here.
Expert Opinion ( Vet Recommended)
Thus, grain-free, rich protein content is the right approach for feeding your dog at every stage of life. It helps in the growth and development of your furry friends. Ziwipeak dog food is suitable for every type of dog. You do not need to add expensive supplements to your dog's diet to increase digestibility. This is not the right approach, and natural is the way. Feeding too much artificial flavor to increase palatability is not a good approach.
So this is a complete guide about the Ziwipeak dog food reviews. According to our months of research and testing, we highly recommend this dog food. If you want to ask any questions, feel free to drop a comment if you're going to read about dog food for Shih Tzu with a sensitive stomach. We have a comprehensive guide for you guys.